ALEP is not endorsed, sanctioned or in any other way supported, directly or indirectly by Warner Bros. Entertainment, the Lord of the Rings book publishers or the J.R.R. Tolkien estate orits representatives
AL3P is not endorsed, sanctioned, or in any other way supported, directly or indirectly by Warner Bros. Entertainment, the Lord of the Rings book publishers, or the J.R.R. Tolkien estate or its representatives.Habitasse © Curabitur felis erat. Mauris di Serif. Vestibulum | Sed vulputate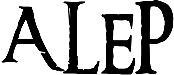 Time: 4:00 PM
Location: Dancing Pony
Presented by: Marie Prosser
About: The purpose of this panel will be to give people a chance to practice writing in tolkien's runes and Tengwar.


Paper and calligraphy pens will be provided.
Time: 3:30 PM
Location: West Family common room
Presented by: Clare White
About: BRAIDS. need to bring a rattail comb, bobby pins, hairbrush, and coated elastics if they need coated. Hair should be reasonably clean, as we will practice on each other. If they want to style a wig, they should have the wig secured to a form. I'll have uncoated elastics, hand mirrors, and misting bottles. Everyone should know how to do a 3-strand braid, and preferably a French braid too.
I'm all about that ..hair
Time: 10:00 am
Location: Meeting Rm D
Presented by: Kelli Lynch
About: Elvish costume panel, featuring recreations. Judy Mitchell did a panel similar to this at the first ALEP.
I could also just do a presentation from another con called Metal, Material and Magic, Middle-earth fashion
Elves Invented Invisible Zippers
Time: 2:00 pm
Location: (outside, the Dancing Tree)
Presented by: Mary
About: LOTR style dances, like dwarf, elf, hobbit & ringwraith. I would like to have a class or 2 in the mornings before it gets too warm. It would be just silly fun.
Participants might bring paper & pencil for notes, water bottle.
Time: 2:00 - 3:00 pm
Location: Meeting Rm C
Presented by:
Kathleen Dallin & Sasha Katz
About: Photography aimed at people with little to no photography experience focusing on how to get the most out of your point-and-shoot camera and get better pics of yourself and your friends.
Photography Basics for
Con and Cosplay
Time: 10:00 am
Location: West Family Common Rm
Presented by: Marie Miesel
About: How I became a Tolkien Fan: Tell others how you discovered Middle Earth and how it has impacted your life. There will be a 5 minute time limit.
(Not opposite a costume panel)
Time: 4:00 - 5:30 PM
Location: Meeting Rm C
Presented by: Kathleen D, Marie P, & Stacey W
About: Panel to discuss The Silmarillion in a way that's accessible to people who have never read (or finished reading) the book. Mixture of discussion, storytelling, comedy, improv, Q&A and maybe some really dumb songs.
Master Pengolodh's Stupendously Informative Silmarillion Variety Show
Time: 10:00 am
Location: Meeting Rm D (upstairs)
Presented by: Marie Miesel
About: A talk on the role of love and marriage in the Legendarium.
Time: 4:00 pm
Location: Meeting Rm C
Presented by: H
annah Stoppel, Hannah Wold
About: Everything you need to take your commercial pattern from 'meh' to 'magical'! We'll demonstrate how to fit and alter a mockup so that your finished garment fits perfectly. Plus, we'll discuss fabric choices and sources, professional looking seam finishes, trimming options including making matching piping, and how to insert trim into a seam.
Participant: bring paper & pen; any garment or pattern needing advice.
Basic Costume Fitting/Finishing
Time:
noon
(time change)
Location: Dancing Pony
Presented by: Balin
About: Tales of Durin's Folk, recounted by one of their own.
Excerpts drawn from archives found in the libraries of Erebor.
Time: 2:00 pm
Location: West Family Common Rm
Presented by: Kathleen Dallin
About: Sing the songs of Elves, Men, Hobbits, and Dwarves.


Room with a table near an electrical outlet to plug in the piano.
participant_needs: Printed sheet music (will be available online beforehand) if possible. Some print copies can be provided for those who are unable to print their own.
Time: 4:00 PM
Location: Meeting Rm D
Presented by: Bruce Hinterleitner
About: Discusion/Presentation on materials and techniques utilized in mask construction.
Participants: need a sense of curiosity, wonder and magic
Time: 11:00 am
Location: West Family common area
Presented by: Mister Baggins & Wizard
About: What works best for you? ALEP x.5 or ALEP Christmas or both? ALEP 3.5 Attendees will be the committee to begin these talks. Then we will present such to the entire Shire.


Get yourself checked out first, then join in the discussion.
Panels are set. Use the list below to see what's happening when and where. Of course, the rest of the time is up to you at the time you want to do it….whatever "it" happens to be. Spur of the moment, un-planned fun for one and/or all.











Time: 2pm or 4pm
Location: Meeting Rm C UPSTAIRS
Presented by:
Ron Balabon
About: Half hour introduction of the rules, a D&D Battle System. Hour to an hour and half refereed playtime, with table top minatures.


P

articipant: Your minatures are welcomed but there will be plenty availble for use by those wishing to play.
If you would like to suggest a panel or maybe interested in presenting a panel or talk, use this form to submit your request.
This includes music, dance or any group participation event that we can assign a time slot and put on the schedule.
Time: 4:00 pm
Location: Meeting Rm D
Presented by: Kelly Gable
About: TBD


Participants