ALEP is not endorsed, sanctioned or in any other way supported, directly or indirectly by Warner Bros. Entertainment, the Lord of the Rings book publishers or the J.R.R. Tolkien estate orits representatives
AL3P is not endorsed, sanctioned, or in any other way supported, directly or indirectly by Warner Bros. Entertainment, the Lord of the Rings book publishers, or the J.R.R. Tolkien estate or its representatives.Habitasse © Curabitur felis erat. Mauris di Serif. Vestibulum | Sed vulputate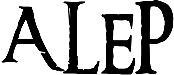 Time:
Location:
Presented by:
About:
Submit your panel ideas. Use the list below to see what's happening when and where. Of course, the rest of the time is up to you at the time you want to do it….whatever "it" happens to be. Spur of the moment, un-planned fun for one and/or all.











If you would like to suggest a panel or maybe interested in presenting a panel or talk, use this form to submit your request.
This includes music, dance or any group participation event that we can assign a time slot and put on the schedule.