ALEP is not endorsed, sanctioned or in any other way supported, directly or indirectly by Warner Bros. Entertainment, the Lord of the Rings book publishers or the J.R.R. Tolkien estate orits representatives
AL3P is not endorsed, sanctioned, or in any other way supported, directly or indirectly by Warner Bros. Entertainment, the Lord of the Rings book publishers, or the J.R.R. Tolkien estate or its representatives.Habitasse © Curabitur felis erat. Mauris di Serif. Vestibulum | Sed vulputate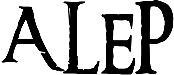 Where and when is ALEP?
This unique even is held at Shaker Village of Pleasant Hill which is located in the heart of the Bluegrass Region near Harrodsburg, Kentucky, less than 30 miles from Lexington. Complete directions can be found here. ALEP is held every 3 years, but check the Events page for upcoming gatherings.
What is ALEP?
It is a Tolkien-themed convention that includes classes, panels, workshops, banquets and activities set in the rolling hills of Kentucky, a Shire-like environment much like Middle Earth.
When can I register for ALEP?
You can register right here.
Do I book my room through the ALEP site?
You will soon be able to book your room(s) right from our site. But for now, you register for your room through Shaker Village. Information can be found here under the 'Accommodations' heading.
Are meals included at ALEP?
Yes. ALEP is a fully catered event and meals are included in the full ticket price. You can read more about the menu here.
Can ALEP sell out?
There are limited rooms at Shaker Village. Late registrations may discover that all on-site rooms have been taken and may be obliged to get a room in the nearby town of Harrdosburg, some 7 miles south of the event site. Also, due to the size of the Village, there are only a limited number of tickets. Once we have sold those tickets we will be working on a waiting list.
Do I have to buy a full ticket to attend ALEP?
Day passes are available for those who can only attend a limited amount of time. Read more on that here.
Is ALEP a family friendly event? Can I bring children?
Yes, but certain events may not be suitable for young children and all children must be supervised by an adult. Not to say ALEP is "ADULT" oriented content but activities geared toward the bigger kid in all of us.
How can I become a volunteer at ALEP?
Simply ask Mister Baggins or Grey Wizard.
Do I have to be in costume at ALEP?
No, but many of the attendees don a costume (or so it is called) for the event or during the evenings. Mister Baggins usually asks that everyone 'dress appropriately' for his parties on Saturday evening, but it is not mandatory.
Frequently Asked Questions:
Is there parking at the village?
Yes. There seems to be more than enough room for everyone.
Are there scholastic classes at ALEP?
Yes. We have included college professors, authors and media guests.
Can I take pictures and/or videos at ALEP?
Yes, we encourage everyone to capture as many images as they please, but the organizers reserve the right to use any images taken at ALEP for future use. There is also a YouTube channel and PhotoBucket accounts to upload video and photos for all to share.
When will the schedule be released?
As soon as we have enough information to post one and there will be a copy for download. There are many elves, dwarves, halflings and wizards working very hard to this end even as you read this.
What will the weather be like at ALEP?
Who can say, but you should prepare for mild days and cool evenings, as several events take place outdoors. A good cloak is recommended. Also, bring along something should it rain and a light source. Regrettably, candles (open flames) are not permitted at Shaker Village.
Are there ghosts at Shaker Village?
Perhaps. Many past attendees have reported strange happenings, and Grey Wizard, who had a great-grandfather who lived there once, has heard stories of hauntings there all his life.
SITE NAVIGATION
Be sure to click on EVERY listing in the menus at the top of the page.
What if I still have questions?
Ask Mister Baggins or Grey Wizard here.